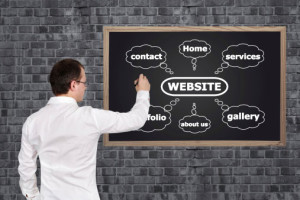 Even though every website is different in it's design and its purpose there are a few key features that every website needs. In order to ensure the highest probability of people staying and your website and converting into a future customer make sure your website includes all of the following:
Attractive and Easy to Navigate Homepage:
This is increasing more a potential customers first impression of your business. If your homepage is attractive and engaging the viewer will be more likely to view other pages and read on. When people are coming to your website it is typically because they are trying to find some sort of information. This could be your phone number, store hours, what services you provide, etc. It is your websites job to make sure they can easily find exactly what they came for, from the homepage. Which brings us to the next key element.
Easy to Find Business Information:
The number one complaint people have with websites today is trouble finding the "contact us" page. Make sure your website viewers are not frustrated trying to navigate your site. Give them what they expect: that is a "contact us" link somewhere in the top right corner of your website.
Strong Call to Action:
A call to action encourages your viewer to take action that will lead to doing business with you. This can be "contact us" now forms, or "call today" right beside your phone number, or "get your free quote now!" The key is to make it easy and enticing for your page viewers to reach out and contact your business.
Add some credibility:
Do you belong to the BBB or some other industry quality group? If your a service company add some photos of your past work. Anything that will help your site viewers to feel that you are a credible business. Anything that will help new visitors to feel comfortable contacting you.
The following two tabs change content below.
John is the lead developer at Branch Out Marketing. An Ottawa based agency specializing in digital marketing strategies & web development.
Latest posts by John Shaw (see all)