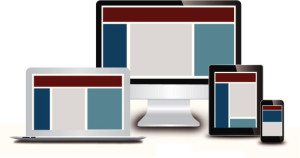 Responsive web design is an approach aimed at crafting sites to provide an optimal viewing experience, easy reading and navigation with a minimum of re-sizing, panning, and scrolling-across a wide range of devices; such as: desktop computers, tables, and mobile phones).
With the dramatic increase in people using their smartphones to browse the internet you need to make sure your website caters to these viewers. Sites that have traditionally been built to be viewed only on desktop monitors are very difficult and frustrating to navigate on a smaller screen such as an iPhone or Android device.
As you can see in the photo above, a responsive website preserves all it's characteristics, such as content, and colour schemes. A responsive website can recognize the screen size of your viewer and then display the appropriate version of your website for optimal viewing. With more and more people using their smartphones and tablets as their main source for browsing the internet, you want to make sure these people can navigate and find your key business information as well as the people visiting your site from a traditional computer.
If you would like to test some sites to see what they look like on tablets and smartphones you can try it here:
MobileTest.me
The following two tabs change content below.
John is the lead developer at Branch Out Marketing. An Ottawa based agency specializing in digital marketing strategies & web development.
Latest posts by John Shaw (see all)