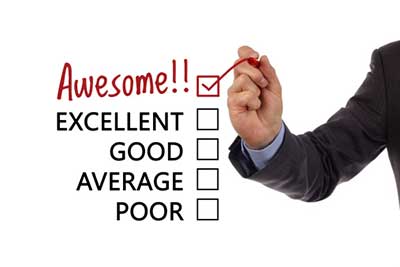 Online reputation management, in business terms, is the understanding or influencing of a business's reputation.  Essentially, if I don't know anything about your business and I was to look you up online – what would I find?  What are other people saying about you and your business?  Will the reviews I find want me to do business with you or avoid you?
If I can't find anything about your business online then you have no online reputation.  Which is not good obviously, but it's still better than having a negative reputation.  Clearly there are many businesses that have a negative reputations and reviews for good reasons.  Examples include restaurants that serve poor quality food, auto mechanics that do unnecessary repairs to make more money, or even contractors that take your down payment and never show up again.  It's businesses like these that lead people to "do their research" before making purchasing decisions.
However, there are plenty of businesses that do good work, produce fine products and services, but still have a negative  a negative online reputation.  Part of this comes from the fact that people who feel ripped off or cheated are more likely to leave an online review of a business, than someone who received what they were expecting.  Since we all go to a restaurant expecting good food and good service, we don't feel inclined to leave a review of that restaurant unless it was either bad, or well beyond our expectations good.  A perfect example is a mechanic I was recently talking with who was telling me is he has one review of his business on Google+, from a customer who was looking to get his car safety certified.  When his car failed the safety inspection and this particular mechanic would't pass it without performing the necessary repairs to make the car road legal, the customer become very upset and post a huge review/rant about how this mechanic wouldn't certify his car, and lying to him about what work needs to be done just to make more money.  Now this mechanic has probably lost out on many new customers because anyone searching for a new mechanic in his area will see only this review – unaware that he wouldn't certify the car because he wouldn't break the law and jeopardize his business.
This is the real problem for the business owner – when potential new customers are reading the negative reviews.  If you are looking for a restaurant in a city you are visiting and see a couple of negative reviews about the service being really slow or the food is overpriced your probably not going to be dining there tonight.  Not when there are plenty of other restaurants to choose from.
So how do you fix such a problem?  Though there is not much you can do about preventing people from leaving negative reviews, there are steps you can take to improve your reputation.  First off you want to encourage your loyal customers to leave reviews about your business.  If you have a couple of negative reviews, but 30 good ones to go with it, the negative reviews will have less of an impact.  The second thing you can do is respond to the unsatisfied customers in the forums.  Almost any place people can leave reviews about your business, they will allow the business owner to respond to these reviews.  So for example you see someone has left a 2 out of 5 stars for your restaurant and the comment was "service was terrible – took an hour to get our food."  I'd recommend leaving a response such as "We are terrible sorry our service was slow for you.  We had some unexpected large groups and a couple of our staff have been off sick this past week.  Please feel free to call our email us so we can make this up to you.  Sincerely John Smith."  Now if I see someone has left a negative review and then a see a business owner who leaves a response like that, I'm thinking well there's someone that cares about his business.  Now obviously you can't consistently respond to negative reviews in this way, but if you have one or two that are hurting your otherwise great image, this will do wonders.  Sometimes reputation management is more about damage control.
In sum, you can't control what people are saying about you, but you can control what you say in response.  The thing to really keep in mind is that it's not so much the annoyed customer you are trying to please, but all the people who might be potential future customers who are reading what they wrote, and how you responded.
The following two tabs change content below.
John is the lead developer at Branch Out Marketing. An Ottawa based agency specializing in digital marketing strategies & web development.
Latest posts by John Shaw (see all)